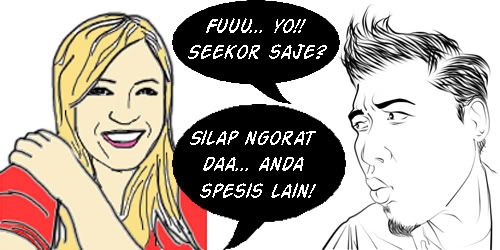 Ni gamba yg terhasil setlah sesi 'blaja bersama tunang bf tersayang'... ngehngeh. Dia ajar lain, dia ajar cam gamba dia wat tuh, tapi aku tak ingat cemana so aku tibai je, then tambah2 karer untuk mengkaver line yg tak semantap line bliau... Dah le muke katun. Ishk ishk. Harap maklum incik sayang.
Tapi yg aku tau, ari ni aku amat terkesan ngan entry incik AJ kat blog dia... Dan dia wat aku semangat nak gi minang incik sayang aku... Buat aku pk, kalo hantaran manyak pon, tak semestinya lelaki tuh takkan tinggalkan wife dia, just because dia tringat banyak mana dia dah leburkan utk wife dia kan. (Before dis keep pikiring that hantaran memahal maybe leh wat sorang laki tu stick with his marriage... A big no-no.) Lagipun dah kasik, takleh buat ape dah. Cuba kalo lelaki kasik Quran je... Bile rasa2 dia nak cerai bini je, skalik aiseh, terharu bile mengingatkan wife dia tadik sudi kawen ngan dia even dia just kasik Quran je...
Kalaula mak aku spesis melayan blog orang... Aku akan pastikan bliau masuk blog AJ ari nih... IF ONLY... T_T
girlfriday says @ 03:14 pm
Fara


March 10, 2006 07:41 PM PST



anda terpkir pasal kawen.. me too.. tapi phobia plak nak menjadikan ia raliti! huhu!
Fara


March 10, 2006 07:41 PM PST



anda terpkir pasal kawen.. me too.. tapi phobia plak nak menjadikan ia raliti! huhu!
Fara


March 13, 2006 04:43 AM PST



sya.. aja laa caner nak wat gbr tu.. org bute potosop laa..
ADii


March 14, 2006 10:02 AM PST



nak masuk minang ke? terharunyer....
Training Coordinator Anda


March 14, 2006 07:24 PM PST



Saya mendapati anda tidak hadir kerja pada hari ini. Adakah "Encik Sayang" telah meminang anda? Sila maklumkan.

ikoko... derang tak belajar tinggi cam kita. sebab tu bahasa mereka lebih sopan.

ya, setebal mana iman kita? itu soalan yang sangat baik.
girlfriday


March 15, 2006 08:52 AM PST



fara: fobia? huhu lagi fobia kalo tak kawen... gambar tuh, main tekap pakai potoshop. uhu. mari blaja ngan sayangku, sayangmu jua :P

ina: huhu smangat ina! err kalo pose, rasanye nafsu makan leh aa kontrol, napsu lain tuh, tsk tsk... -_-

btol, time dorang moda2 dah kawen... tak timbul langsung soal camnih. tapi tu aa... nak wat cemana, mak ayah kite... cemana dorang bernapsu, camtu la kite bernapsu, malah mungkin lebey membuak2 lagi...

kekadang akak rasa mak ayah cam takmo pk yg anak dorang dah ada prasaan gitu2 kot.. ishk. pasrah je. tapi yg pasti, anak2 gue nanti, kasik can aa sama mereka. (tapi jgn mintak mak masukkan duit tetiap bulan cam org ittew:ija! wahahahaha!)

ADii: (aik sejak bile jadik dua i?) Sayang mari mengahwini diri sendiri... T_T

TCA: ye...saya mc smalam...malah diberikan dua ari, tapi saya yg dedicated nih amek sehari je mc...


girlfriday


March 16, 2006 08:19 AM PST



wah wah...baru kulihat komengmu kat blog incik dueng... sal gamba tuh, ai pon tak abis nuntut lagi... wahha mari blaja~