Woah.... tu dia Mr Robert datang opis... Yah yah! Ye... Menggelecek kakinye ke cubicle seblah ku... (seblah lagi!!)... Bertentang mata... Dia dah notice gua. Maka aku pun senyum ngan niat 'silela terpikat... silela terpikat..' Nguahaha dan dia senyum... Gollll! What a beautiful day! :">

Oh, loser di atas tuh bukan typical loser ok. Weight loser ok, ngeh ngeh. Ni following the reality show The Biggest Loser tuh, ada tengok tak? Woah sangat bersemangat lah untuk menyelimkan bodi secara bermuscle di perut pas tengok show tuh... Hakhakhak!
Meh aku cite sket2. Ada 12 contestants, sume bodi pawe2 punya, paling berat dalam 450 pounds, paling ringan lam 180 pounds. Sampai2 je dorang kat tpt tu, dorang nampak bermacam2 jenis makanan dilambakkan atas satu meja yg panjang... Dan meja2 tu plak di partitionedkan, dan setiap orang ada partition masing2, dilabelkan dengan nama memasing...
Anda tau ke pesal ada nama tuh?
Ghopenye... Atas meja yg penuh makanan tuh, adalah makanan2 yg telah masuk lam perut contestants tuh sepanjang seminggu lepas. Terkezzut dorang, tengok banyak2 donut diatur sederet, macaroni cheese melimpah ruah, spegeti la memacam ah. Dorang sendrik tak caye makanan sebanyak tuh dah masuk lam perut mereka. Woahh gerunnyier memikirkan ape yg aku sumbat lam perut las wik!

Enden, mmg they went cold turkey. Terus work out cam nak mampus, sampai termuntah2, diet plak fresh veges. Sampai ada sorang ckp, "All I can eat is that plant." Nguahaha keji! Oh ekceli dorang dibahagikan kpd dua group, satu group biru, satu grup merah. Grup biru dapat trainer lelaki, yg percaya kepada diet hi volume, hi protein, low calorie. Sementara itu trainer utk grup mewah lak sorang pompuan yg berbodi superb... dengan motto: "burn more than what you eat." Bliau sangat tegas dan sangat pushy. Manakala trainer grup biru, soft orangnye, takmo memaksa... tapi bliau percaya pada motivation... :)
Endennn, sepanjang seminggu tu dorang kene gigih eksesais aa, sbb by the end of the week dorang kene timbang. The team with the biggest lost is the winner team. The losing team, kene vote one of the team members, out.
Enden, sampaila masa setiap orang kene timbang. Skrin yg display berat tuh, kaw2 punye besa! Sume pakat2 tutup muke kemaluan, b4 dorang stat program tuh. Tapi lepas seminggu, timbang2, skali memasing tak sangka berat dorang dah turun gile2... Paling banyak weight lost = 20 pounds, paling sikit 9 pounds camtu tak silap aku. Seminggu je wa cakap sama lu! Giller ah!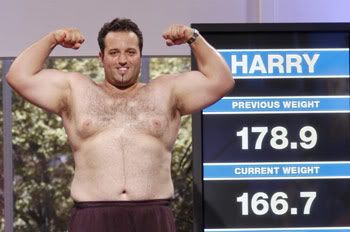 Ini idolaku :D Bakal ensem nih!
Start weight: 179 kg
Target weight: 139 kg
Turned out, jeng jeng, grup merah yg menang... Ye! Grup yg trener dia kijam ittew! Kesimpulannye, kalo nak kuruih kene dipaksa ok! Kalo tak, dia naik lemak! The blue team voted out org yg paling kuruih antara dorang, for the future of the group sbb sure lenkali2 pun kadar penurunan berat dia lagi sikit drpd yg super gemuk kan? So, susah la team nak menang... Lagipun, dorang cakap, dia tak gemuk sangat, so kat luar program pun dia leh kuruskan badan... Mmg btol pon, lepas kuar program, that girl yg di voted out tuh, turun lagi 15 pounds... Dah selim gile ah skang!
Rasa2 entry pasnih lebey manyak berbaur diet. Tapi skang diet terpause kejap, sebab aku memerlukan barang2 utk eksesais. Diet itself kenot do lah. Nak barang2, kene tunggu duit dlu. Dalam 4 minggu lepas, dalam proses diet, sempat la 4 kilo lemak dinyahkan. Minggu nih aku takut nak timbang! Sebab aku makan ngan berjaya las wik! Yeyearghh!!
Takpe, kalo nx wk dah dapat alatan yg patut, aku update sini, ngan penurunan atau peningkatan yg dikecapi. Hoho. Aku dah stat kumpul resepi yg menyihatkan utk time diet nanti. Eceh! Marii marii! Jom jadik loser!! Ngahahaha! :))
Hurrah Healthy Lifestyle!
** Get a good night's sleep - research shows those who sleep less than 5hours a night are 70% more likely to be obese.
** To burn up the Calories from a daily can of softdrink you would have to walk 21 kilometres a week or 1092 km per year (roughly the same as walking from Sydney to Melbourne).