Sampai2 ke opis tadi, aku terusha news highlight kat intranet site:
PETRONAS staff who use contact lenses are advised to stop using the ReNu range of Bausch and Lomb contact lens solution until further notice. Sbb dipercayai ada association antara produk tuh ngan FUSARIUM KERATITIS.
Aritu memang ada terdenga berita kat tv pasal tu. Tapi tak amik port sangat, pasal aku tak pakai renu dah, dulu2 je, sebab rege dia mahal dr yg lain2. Tapi yg tak sedap, bile bace simptom2 Fusarium Keratitis ni:
1. Sudden blurred or fuzzy vision - checked! and i always wonder, 'mata aku yg blur ke, hari ngah berkabus nih?'
2. Red and irritated eyes lasting for an unusually long period of time after removal of the contact lens - short period je.
3. Pain in and around the eyes - kengkadang.
4. Increased sensitivity to light - sangat2!! sampai berdenyut kepala, takbleh bukak mata langsung hatta tengok cahaya yg sangat malap pon kekadang tu!
5. Excessive eye tearing or discharge - jarang-jarang, kadang-kadang. (Woo tringat si Awal ckp camni smalam dalam Tariking. Ala Awal yg bakal host One In A Million tuh. Suke suke suke bliau! Bes giler dressing + attitude! Aiii laikk!)
Penah ngadu kat incik sayang sal ni, bliau kate jagalah mata baik2. Aku kata, ooo, kalo buta taknak kat orang la yek?? Bliau kata, ala, susahla yang kalo buta... Oooohhh.... Baru ingat nak mintak korneo barang sepasang nak wat transplant tadik...! :))
Pastuh pastuh... Jari2 tangan kanan keep sakiting since last 2 weeks lagi. Lenguh yg sangat merimaskan! Kalo menaip, jari tangan kiri bengkok secara bes, tapi jari2 tangan kanan stret je. Tapi maybe gak aku tersaiko lepas dpt fwd email dr musmet seperti di bawah ni:

Please take good care of your wrist while using the keyboard and mouse of your computer. Long term repetitive action stress can lead to Carpal Tunnel. You could end up going under a surgery that looks like this: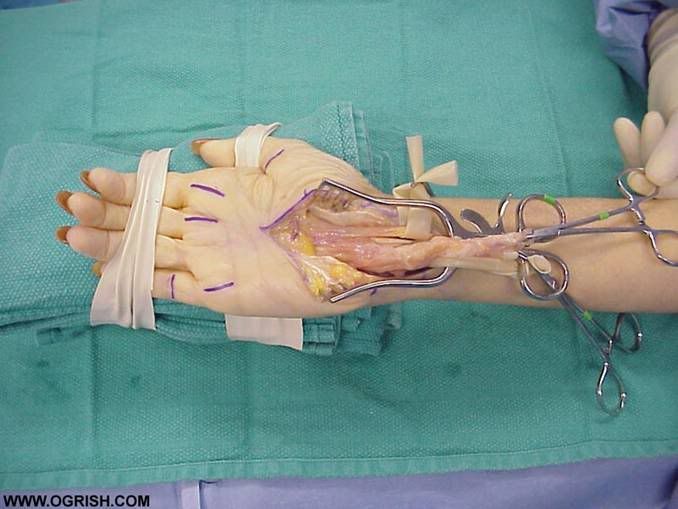 Pulak tuh, kerap gile gune pc skang. Incik sayang kata - Haa tu la... Sebab eksesais pakai abking pro, dia affect saraf kite tau wak... Uuu pasrahnye! I was like, tanak bini slim di perut ke bang? Hehe. Tapi aku kata, kalo sebab abking pro, apsal seblah kanan je yg sakit? Time wat abking pro gune dua2 belah tangan. (Lagipun abking pro dah agak berspider web kerna jarang gune! Ngahaha! Dan slalu convertible sbg tempat sidai baju! Hihi! So mengikut firasat hamba, tidak timbul masalah saraf sebab jarang menggunakan mende tuh!) Time mendesign ye la, banyak gune mouse je...
On the other hand.............. Petang nih kol 6 betolak ke utp! YAHUUU! Mauk donlod sampai lebam! Dah rangka memacam plan. Sampai2 je nak gosip secara borong ngan ija. Gosip sambil mkn kfc's dinner plate, sesambil dah boleh mule donlod Prison Break, Desp Housewife, Apprentice etc etc, sambung gosip lagi sampai kedengaran dr bawah musmet jerit, "Kak Sya! Kak Sya!". Oh! Rupenye musmet, mekna, mektur, heda & su dah sampai ngan bas kol 11 dorang dr KL! (I made her promise me that!)
Then mus kate mauk naik ke bilikku, dipercayai utk catch up memacam gosip sepanjang kitorang tak jumpe nih. Then, masuk irc, msg kerel, msg jepri, msg pi pi pi pingu, dan kaco cenel2 yg dah lama tak dikaco. Pastu kaco pi pi pi pingu kat bilik dia. Bliau kata nak tunjuk curtain butterfly dia... Menyampahhhh! Jelesssss! :D
Denga kata ija dah bli bra ngan spentot baru untuk menyambut ketibaan ku... Wahha! Nantikanku di ranjang, ija! Warghahaha! >:D