Saje nak share, gamba 'anak express' yg tlah incik sayang kasik kat aku dulu. Aritu time2 nak ter-clash ngan incik sayang tuh, ija soh aku tunjuk gamba mashi lepas aku dah bela dia hampir lapan bulan kat incik sayang... Kot2 la incik sayang terharu tengok betapa aku menjaga incik mashi!! :D
So.... There u go!
BEFORE AFTER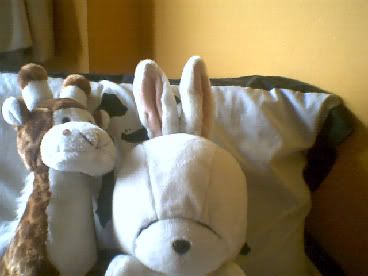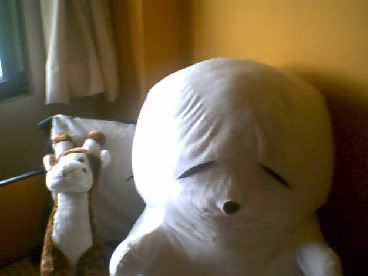 Amacam, sihat tak bliau? :D Hua hua hua! Err, yg seblah tu (Puan Azirafah) kawan sepermainan mashi yg Auntie Ija kasik :D
girlfriday says @ 04:53 am
fungkur


April 5, 2005 05:02 AM PDT



makin gemok ar die.. mana gi tlinga die?? huhu...
girlfriday


April 5, 2005 05:11 AM PDT



wahahaha terlebih nutrien sampai tlinga kene potong :D

tinger dia tak nampak aa... jatuh ke blakang tu
dueng


April 5, 2005 12:45 PM PDT



mashi makin besar, azirafah makin kecik...mashi buli azirafah ke???
ai


April 5, 2005 03:02 PM PDT



arituh incik mashi maro kene operate perot dia pasal ade lebihan lemak terkuar ahaha maka jarum dan benang ai tepakse digunakan utk tujuan tersebut.parut benang bekas operation tuh ade lagik sbb dr. kaksya maseh baru dlm ilmu perubatan batin nih haha!
ai


April 5, 2005 03:10 PM PDT



walaupon nampak sehat dan mengancam namun.. incik mashi maro pnah kehilangan telinganye satu ketika dahulu time kaksya tgh membelai2 incik telinga anaknye sambil menimang2 mashi ke udara..2nd operation tepakse dibuat ke atas mashi sbb telinga dia terputuih..seb baek jahitan kedua nih bejaya gak even posisi telinga dia berpindah sket ke blakang ngengenge ;)
girlfriday


April 6, 2005 06:48 AM PDT



hoiiiii incik ija yg dengkiiiiii!!!! Awak mahu saya tukarkan posisi mulut awak ke belakang kepala???? Mau?? Mau?? NGuahaha!

oi oi oi polloi! walaupun cacat telinga, incik mashi masey dingorat oleh anak anda(azira) aa puan ija!!! hua hua hua! Dengki tak hingat aa anda nih! Saya doktor yg betauliah okke! Ngeeeeee :<

hehe mashi tak buli azira ah dueng, Nereka becinte skang. nyehehe 8-)
dueng


April 6, 2005 10:36 AM PDT



berchenta? waa...mesti tgh bahgia gile. hehehe. padanlah encik mashi makin besar, rupanya disayangi cik azira. bahgia sungguh melihat encik mashi dan cik azira. sometimes i hope i can be as bahgia as them. haaaaaaaaaaaaaaaaa...

kakakdegil


April 6, 2005 01:58 PM PDT



hihihi.. kembang kepala tuh..
ai


April 6, 2005 09:57 PM PDT



attn!mashi bsar tersebut bukannye disumbat ngan kapas ye tuanē(perlukah kekasehh ati tuan punya blog neh trase?ngengenge :d)
ADi


April 7, 2005 01:36 PM PDT



HUAHAHAHAHAHAHAHAHAHAHAHAHAHAHAHAHAHAHA!!!!! Gambo tu telah membuat Incik Sayang anda ketawa berguling!
girlfriday


April 7, 2005 05:06 PM PDT



Ekeke... Buruk nye gelak guling-guling! Ahahahaa!

Kakaks: Incik sayang pk, kepala bliau kembang karena disumbat kapas...!Ngahahahahah!

Ija: Kekaseh hatiku tak terasa tu... huhu..

Dueng: 'THe key to a man's heart is through his stomach'... Nengok la azira, hasil didikan gue, bahgie je mashi.. So.. Ko nanti make sure ur princess turn out to be someone yg tau jaga perut anda tau! :)

Err, kan incik sayang kan...? ;d


ADi


April 8, 2005 12:07 PM PDT



Encik sayang anda bisa kembung bersama cik sayangnya!
Fara


April 8, 2005 10:30 PM PDT



no wonder bobo nyer perut makin membesar.. muahahahaha! mungkin sbb bahagia.. kah kah kah..
acai


September 22, 2005 05:32 PM PDT



korang sume ni buat aku tergelak jela..bravo2...