Then the very next day, aku call dia. Chill. Tapi aku tak puas ati, aku tanye abis2 pasal that lady. Dia kate, time dia cakap ngan that lady pasal kitorang, that lady nasihat dia suruh baik smula ngan aku(so let's hope we're together now NOT because of her piece of advice otherwise i'd better be another nutcase). Tapi at the same time, that lady ckp dulu dia suke kat incik sayang! Huwargh! Terlampau ke kalo aku marah over that statement? Tapi takpe. Aku cool.
So... Aku kan seorang yg gigih. Nak jadi cite, that lady plak add aku kat prenster. So, berbekalkan konsep 'best girl wins' dan 'FCFS' aku update la prenster aku. Letak artwork yg incik sayang kasik dulu time propose, letak sume la. Pastu aku anta testi kat prenster that lady, "
So this is you..
" Takmo initiate any form of fights. Just nak initiate some form of bickerings :). Grr.
Esoknya jugak that lady reply testi aku with "
Girlfriday(my name)?? So sweet.... No wonder :)
" Ooh and that kills me to know she's that nice! Kalo orang dah baik secara automatikla kite tak rasa nak ketuk kepala beliau kan! Tapi aku tak approve la testi tu. Aku cakap kat incik sayang aku marah that lady. Hehe. Nak tengok reaction dia, backing tak itu lady. Kot la kan. Once you were hurt big time, u just don't have faith on anyone you know. Tapi time tu dia just cakap, "
La.. Apesal marah kat dia...
" Kool kool je. Tapi dia masuk gak la prenster, nengok apa yg terjadi. Pastu time kitorang cakap lagi kat tepon, dia cakap, "
Ahahah, siap letak semua gamba yg B kasik... Nak tunjuk kat dia eh? Siap ngan gambar afro lagi tu!
" Dia gelak gile gile. Aku pun ikut sama gelak... Tapi gelak sambil mengalir air mata aaa. Tah, tatau nak rasa camne time tu :|. Pastu incik sayang sambung, "
At least B tau, awak sayang B...
"
Gamba yg kat bawah ngan gamba kat atas la yg aku letak kat prenster :|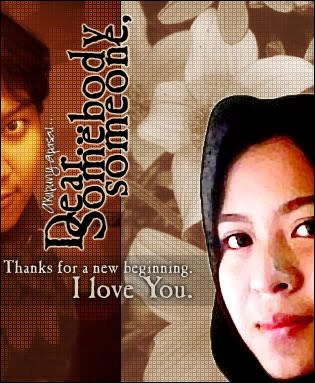 Jangan usik! Ini saya punya!
Tapi malam tadi.... Dia tak call. Ija cakap, "
Korang ni balik2 gaduh benda yang sama je..
" Yg tambah rasa tak bes... Aritu time jumpe dia I made him promise me dia akan call at least sekali sehari. Dia janji... Now what? Dia tak rasa rindu kat aku ke cemana aku rasa? Aku not worth it for him to call ke?? Skarang aku rasa... Aku je yang terhegeh-hegeh kat dia. Buruk sangat ke aku ni kat mata dia???
Dear mr sayang... Saya tau saya cepat hangin, saya tak baik ati, saya degil, saya pemalas, saya bangun lambat, saya buruk, saya tak setinggi 5'6", saya tak kacuk ngan Arab, saya cuma kucing siam yang orang buang dalam longkang, saya bukan Royal family kecuali mak saya raja yg dah kawen ikut ayah saya orang kebanyakan, saya lambat dapat degree, saya semua2 yg buruk tu sayala....:(
Sorry cite kat sini, orang tak tahan :(