Dari awal minggu lagi aku nak update tapi susah sket. Tapi since aku still dok lam boardroom cam dalam gambar ni (ye...akulah chairman ittew!

), maka langsung tadek privacy la.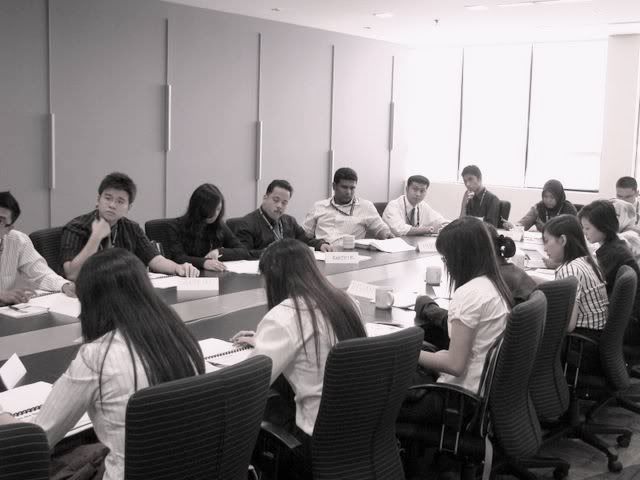 So since skang free, aku dah alih laptop dr atas meja n letak atas salah satu kerusi yg kosong, maka dapatla gak aku taip ape yg aku nak taip selama ni.......
Arini sepatutnye 'graduation day' untuk academy ni. Ikut schedule, training abis arini. Smalam kene present case study... tapi sungguhla malangnye bile CEO kitorg tak pueh ati ngan overall performance based on case study presentation tu la.
Last2 kompeni ni decide, functional consultants sume kena extend training lagi 2 minggu before going into projects EXCEPT kitorang ber6, the technical consultants aka ABAPers, kitorang kene masuk project terus next week. Sbb management kata, "You'll learn a lot when u're going into projects." Tadak point to extend training utk kitorg.
Smalam masa CEO tuh lecture kitorg lam boardroom, bak kate wife dia, it was a chilling silence. Mmg cuak sume orang. CEO kitorang nih org german, wife dia local chinese. Bayangkanla dari seorang yg leh buat lawak gile2, superb presentation skills n all, tetibe tengok dia tegas giler. Haih sungguh tak bes. Wife dia pon as perfectionist when it comes to work, tapi wife dia baikkkkk n understandinnggg sangat. Mmg balance la korang.
So arini tadek keje. Just ada 1-to-1 session ngan project manager lam 10 minit camtu tadi. The best part is when the academy coordinator tu kasik tau project manager yg aku scored highest in abap final exam! Yezzaa tak sangka sangat! Cukup wat aku sengih sepanjang ari!

Next week management akan kasik tau kitorg gi project mana... Aku harap sangat dapat client yg ok n tempat yg dekat ngan rumah or luar kl trus if possible. Debar le pullek tunggu next week... Hopefully sumer smooth... Amin!