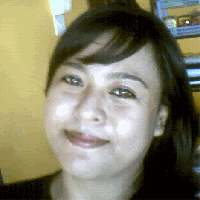 Fringe baru saya! Incik sayang tak suke huwaaa!! :D
Baru ni reformat pc, terjumpe seketul entry dr blog lama yg ter reset aritu... Sengih smula bile bace citer lama yang dah lupe... Nak letak kat sini smula sebagai rekod!!
Friday, August 13, 2004
Aku ada kasi incik sayang satu puppy ni. Ada tompok kat sebelah mata dia... Bile tekan perut, dia cakap "I love you! I love you!" Pastu tekan sekali lagi dia cakap, "You make me hooorrrrny!!" Hihihih yg ni tipu je :P Puppy tu just ckp I labbiu! Pastu aku kasi a silver ring yg tulis nama aku ngan dia... Kalo time dia tepon aku, dia suuuke tekan perut puppy tu... Aritu time borak kat tepon, adala aku geram kat dia, betul2 punye geram... tetibe dia pegi ambik puppy tu dia tekan perut. Kekeke automatik ilang marah! Hati pun kembali berbunga riang... :D
That nite...

[Sayang] : Yang.. Awak tau tak time jamming aritu kan... Saya bawak puppy tuh...
[Aku] : Awak bawak?? Nape awak bawak? Keke! Camne?
[Sayang] : Saya letak lam beg.. Saje la..
[Aku] : Cincin tu awak pakai tak?
[Sayang] : Saya pakaikan kat puppy tu.. Warghahahah!
(Dulu time aku kasi kat dia, aku mmg pakaikan puppy tu ngan
cincin)
Aku pun ada cincin yang sebijik sama ngan dia... Aku tak suke ngat pakai cincin sebenarnye... Tapi aku rasa dekat aje all the times ngan dia kalo pakai cincin tu... Sebab tu aku slalu pakai... Kalo nampak makhluk ensem lalu depan aku pun aku trus tringat cincin tu... Uhuhu that's how a cincin works! :D Agaknye sebab tu la jugak kot dia bawak puppy ikut jamming skalik... Banyak godaan ker incik sayang kat studio??? Uhuuhuhu!

Bile dia cakap dia bawak pegi jamming, letak dalam bag... Aku spontan trus ingat kat zahid! Kan time misha datang bilik Zahid dia jumpe teddy bear kan? Keke! Can't imagine kalo kengkawan Sayang bukak beg tetibe nampak makhluk kiut tu... Huhuhu! Mamat rock kah? :D

Bebeh... Sangat sweet laaa....:)


girlfriday says @ 04:10 am
Fara


May 1, 2005 09:27 AM PDT



eh.. fara ingat sgt entry yg ni!!! it was one of my favs! serious cute! those tyms eh..? hm.. miss it sumtimes kan?

BTW.. fringe kite same laa! ahaks!!
kakakdegil


May 3, 2005 03:55 PM PDT



aa.. harus gue potong fringe cam gitu.. fringe gua panjeng .. bleh selit selit manje tepi tinge.. hihihi..
ADi


May 4, 2005 08:22 AM PDT



sayang... jgn ah sesedey, b ingat pendek btol... takde la pendek mana... :)
girlfriday


May 6, 2005 02:22 AM PDT



haha ingat eh para para? fringe sama eh? bleh wat club nih hehe :P

potong la kakakkkk nanti tunjuk kat kami!! walaupun takbleh selit tepi telinge tapi tetap sanggup berasa rimas asal bergaye! :D

incik adi....mana de orang sedey pasal tu... guys mmg takbleh bace between the lines kan! Haha! Kensel nak marah! :D