Banyakkkk sangat yg aku rindu tentang Ostolia. Rindu mmg bebetul rindu, kerap mimpi pegi sana pe sume... Cam, dapat tengok google earth pun jadila, rasa sonot gile, that sort of thing. Mmg aku rindu.
Dulu masa aku nak blah, langsung tak rasa camni. Dulu aku tinggalkan ostolia rasa senang ati, rindu malaysia n sibuk mengejar chenta buta. Hakkkk tuihh!!
Aku sangat2 menyimpan hasrat nak pegi lagi ke sana and dok lama2 nanti. Kalo dapat pergi, aku nak pergi semula tempat yang aku selalu pergi, tempat yang aku pernah lalu and tempat2 makan yg bes. So entry arini, nak cakap sal makanan2 yg besss kat sana, sbb rite now aku teringattt sangat mknn2 bes kat sana!!
Btw, gamba2 ni of course cilok dari tenet je, tapi they were the closest resemblance of the reallll things ya. Now, presenting, the 9 foods/beverages I missed the most, in random order!:
1. Shish chicken & doner kebab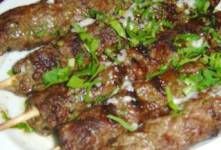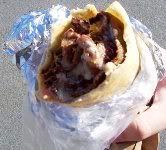 - Shish chicken ni cam satay tapi lagi besarr n bentuk patsegi, rasa dia sangat melelehhh bebb n addicted sangat ok.

- Doner kebab ni lak, kalo beli ni sure pak arab tu tanye - "Do u want houmous? Tabouli?" Memule dengar dulu slalu gelak, sal jargon sangat, tah apela aku ingat. Rupenye houmous = kacang kuda rebus yg dilenyek. Ni pun aku baru tau tadi lepas google.

Slama ni aku ingat, sesame seed yg dihancurkan!

Tabouli lak = sejenis salad.
- Place? : Royal Randwick Plaza, dedekat Msia Hall
- Price? : Shish chicken AU$2.50, kebab AU$6.50

2. Strawberry milk shake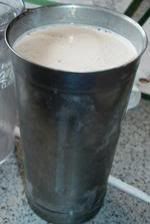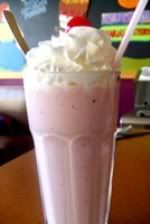 - Ni dia serve lam icy cold mixing vessel, topped with whipping cream. Rasaaaa sangat strawberry dia n heavenly giler bile minum sambil pegang gelas steel tu yg sejuk giler ke tulang sum-sum!

- Gambar milkshake dalam vessel yg ada whipping cream tadek, so aku letak gambar satu lam vessel, satu lam gelas, so pandai2 la tuan2 imejin ye...



Kat mana leh dapat kat mesia aa?

- Place? : Small n cozy cafe tepi2 jalan dekat pekan randwick.
- Price? : Lupe dah.

3. Seafood with anchovies pizza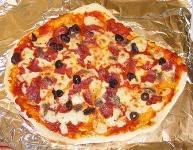 - Gambar ni langsung tadek rupe pizza yg aku makan tu.. Tapi takpela wat hiasan je.


- Pizza ni gune anchovies in oil, bukan ikan bilis cam wat sambal tumis tu ye. Sedap, sedap, sedapppp sangat... Rasa masin2 n melting je lam molot. Dahla gune thin crust yg bebetul thin. Yummy! Seafood yg dia letak pon generous gile!



- Place? : On the Way to Coogee Beach, dekat2 ngan wayang
- Price? : Tak hengat sbb jarang2 beli.. .Biasa orang blanje je hehe!

4. Seafood platter & seafood salad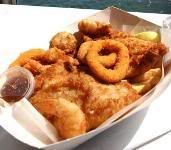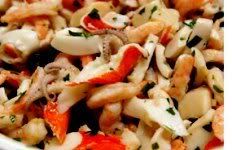 - Sedappp sangat, dia nye batter pon sedap, konpem tak skip makan isi je. Dalam box ni ada tasmanian scallop, fish fillet, calamari rings, prawn, fries ngan tartare sauce.

- Place? : Walking distance from Coogee Beach
- Price? : Seafood platter ~AU$11.00, seafood salad ~AU$3.50

5. Prawn burger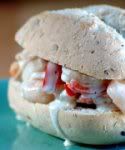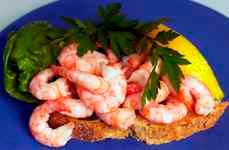 - Yang ni pon tadek gamba cam aku nak, so gambaran sebenar adalah roti lam gambar kiri, tapi udang dia tadek dressing pape. Udang dia fresh ngan salad cam gambar kanan!




- Place? : Queen Victoria Building, QVB
- Price? : Around AU$5.00

6. California roll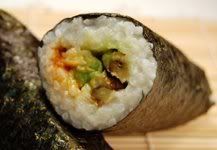 - Slalu makan ni time lunch hour kat uni sbb banyak makanan yg tak halal, so this was one of the choices.
- Place? : Uni Upper Campus cafe
- Price? : AU$1.50






7. Mushroom pasta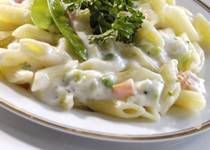 - Ni another alternative yg aku leh makan time lunch hour, it looked something like this tapi dia masak atas tray, pastu dorang letak cheese on top, and baked. Sedap sedap sedap!
- Baru ni aku wat alfredo and rasa dia camni! Dulu tadek idea langsung cemana nak buat. Suke sangattt!

- Place? : Vegeshop, Uni lower campus
- Price? : AU$3.50


8. Beef frankfurter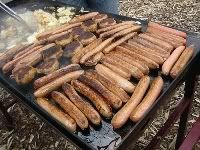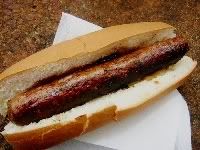 - Ni aku n org msia slalu beli kat kedai halal area2 msia hall, TJ Muamullah. Femes kedai ni kat sana, dorang Indonesian muslim, friendly sangat.

- So kalo ada bbq mmg beli sosej ni, dia langsung tadek rasa cam hotdog kat Msia, sbb dorang letak rempah ke hapetah. Lain sangat, and texture dia pon bukan cam hotdog, dia tak smooth camtu. Oh sungguh sedap. Kalo la bleh kirim kat sesape...

9. Seafood buffet

- Yang ni takyah gamba laa... Specialty kat sini adalah udang yg sungguh banyak, pastu udang2 tu slightly cooked in sea water. Fresh gilerrrr. Skali makan kat situ leh gout wa cakap sama lu!
- Place? : Darling Harbour, Sydney
- Price? : AU$30++
One fine day, gambar2 di atas nih akan diganti ngan gambar2 yg betul ye... :)
p/s: Entri ni aku terpk nak wat lepas makan seafood platter kat Kyros Kebab yg hangit.
Skian, aku nak balik kuantan ni, bas kol 10.30 malam ni. Yabedabeduuu!