Aritu osmet aku ada balik umah jap, so aku sembang2 la ngan dia. Dia skang ngah dok kat umah mak mentua baru dia. Pengantin baru sminggu.

Sooo... nanti cemana? Fiza plan nak dok mana?

Tu la, rasanye nak duduk rumah ni jugak... Kalo sya nak dok sini skali takpe... Tapi tukar bilik je la kot...
Ooh nak dok sini ek? Haha abis aritu kate taknak sbb ada kucing?
Tu la, suami mmg tak suke kucing ni. Kalo dok sini mmg kucing kene dok luar la, pasang la pagar apa2 ke tak kasik dorang masuk...
Ooh... Hahaha dok luar la ek. Takpela... Agak2 bile nak stat dok sini ngan suami?
Sebulan dua lagi rasanye, dok umah mentua dulu kejap. Tapi tak boleh jugak duduk lama2, rasa tak bebas, kalo nak kuar malam segan la kan... Walaupun dorang tak kisah.
Betul2. Sure tak bebas. Takpela, kite mmg dah lama nak pindah, so nanti kite carik umah ek.
So bermulala semula sesi house hunting aku... Tah mana aku nak dok ntah... Keje dah la merata2 adei... Kan aku pnah cakap, membe aku ngan akak dia Fiza nih mmg tak berapa rapat n kureng becakap kan. So aku dah agak mengagak laa membe aku sure tatau lagi sal plan akak dia nak dok umah sewa skang ni.
So aku cite2, bile cakap sal kucen kene dok luar, membe aku pun cam, 'Ala.... Kesiannye!' Hehe. Membe aku la the only tukang kasik makan kucing kat umah ni, dan kerna dia sanggup jaga la, penyewa dulu Cik Tut tu tinggalkan kucing2 dia kat umah ni. Ngee. So, tataula dia nak pindah gak ke, nak dok ngan kakak n abang ipar dia. Tapi dia cakap tak selesa la dok skali ngan dorang. At the same time dia malas melalui proses nak pindah tu.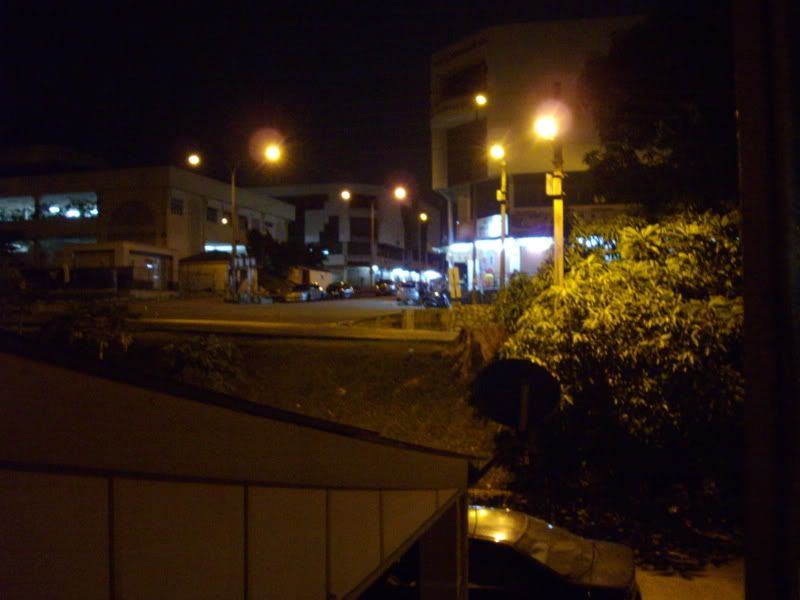 Ni gambar luar tingkap bilik aku lepas abis pasar malam.
So, aku ada membe, Mektur, yg ngam kat utp dulu ngan kazen dia yg nak pindah sbb bilik dia sewa skang bocor. Hihi macam2! Mana nak dok aaa? Aku plan nak dok Ampang balik. Tapi kazen Mektur tu keje kat tmn tun, so kalo aku dok Ampang mebi dia tak join la. Cheras pon dekat tapi giler sesak ek area tu? Ekceli dah selesa sangat dah dok Gombak skang sbb environment bes, umah bes, except for the kucings and agak jauh nak gi kl. Nak balik kuantan pun senang. Kemudahan sume ada, pasar malam dekat, ramai melayu, ngam la suasana gitu ngan aku. Alahai. Ada yg pindah selang dua umah dr umah aku skang, umah yg bertahun kosong tu kang... Wahahaha!
Ok, back to biznez!