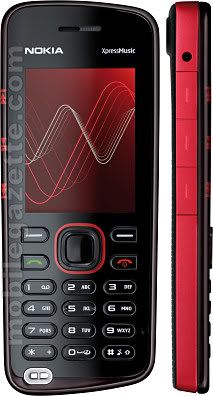 Sbg seorang yg tersangatla outdated when it comes to mobile, aku tersangatla gumbira bile dapat fon baru ni <--!!, baru released this quarter 3, 2008.
Fon lama tu ok lagi, cuma tak tahan sal bateri dia tak tahan lama, beli bateri baru pon sama jugak tak tahan. Hence the new one! Aku jatuh chenta sebab fon tu senget hahahaaha ngan belakang dia unik giler... Akak aku lak memule berkenan tengok kaler dia tapi dia taknak sbb fon tu senget. Hehe.
Akak aku lak dah lama nak bli fon sbb fon dia pon dari zaman batu gak, so dia pon bli xpressmusic yg slide punye yg aku jelesssss gile tapi one good turn off is its thickness, which is almost twice my mobile's hoho.
Rasa malas gileee nak keje after cuti lama giler balik kuantan haritu... Malam Selasa aku sampai Kuantan; Rabu, Khamis, Jumaat, Sabtu, Ahad, n pagi Isnin tu baru aku gerak balik KL smula sbb tiket habis hari Ahad. Ingat nak masuk opis halfday, tapi aircon bas rosak so delay sejam gak, sampai umah pon dekat pukul 2 dah... Pastu osmet aku cakap, aku dah bleh balik opis sal keje kat tpt client dah setel. Lagilaaa konpem aku tuang gi keje, gi PJ jauh tu, konpem tak sempat!
So arini aku dah balik ke main office kat PJ, tersangat dabel la keboringannye!
*************************************************************************
Aritu bile balik Kuantan, baru la dapat tau, rupenye ayah aku dah admitted to ICU bile ambulans sampai ke hospital... Kakak2 aku mmg dah tersangat cuakla... Tapi bile kat icu, doktor masuk air glucose tu kejap je, terus perlahan2 ayah aku bukak mate... Doktor kate kalo lambat bawak spital, ayah aku bleh koma.
So time balik aritu, aku sempat jage ayah aku dua hari kat spital. Ayah aku time tu jadi lupe sangat2 n tak bercakap kecuali cakap, "
Pok nak pergi kencing.
" Pastu most of the time mmg dia dah terkencing atas katil atau kat lantai sebelah katil, barula dia cakap.
Memule aku rasa segan gak nak 'menguruskan' ayah aku tu, sbb bile dalam bilik air pon ayah aku cam segan jugak dengan aku. Tapi dia time tu jadik lupe... Bile bawak ke toilet dia jadi blur sangat2, tatau lepas kencing kene buat ape. Kite kena bagitau semua:
"
Bukakla paip Pok...
"
"
Pok dah basuh ke belum?
"
"
Pok cabutla kain yg dah basah tu... Adik pakaikan kain lain ye?
"
"
Kejap adik ikatkan kain Pok ye?
"
That sorta things. Pastu bile kite cakap tu, dia amek masa utk paham, senang cite, sangat2 blur la. Aku sambil menguruskan dia tu, sambil rasa nak nangis tengok keadaan dia camtu. Tak familiar sangat... Akak aku mmg ada belikan pampers tapi kekadang ayah aku nak pakai, kekadang dia taknak. So selagi boleh kitorang pakaikan dia pampers sbb mmg tak sempat pergi toilet. Tapi even dia dah pakai pampers, dia rasa pampers tu macam underwear je sbb dia still insist nak gi toilet jugak.
Aku ngan ayah aku bukan typical rapat sangat, bukan cam orang sekarang yang jenis cite hal peribadi ape sume kat ayah dorang. Tapi tu la, bond ngan dia kuat gak regardless. Tapi yg aku paling ingat n sanjung adalah commitment dia yg anta aku pegi n balik sekolah dari aku tadika sampai ke Form 3, tu pun sbb dorm 4 ngan form 5 kat asrama... Kalo tak, konpem dia anta gak. Ngan adik badik lain tak camtu.
So tu la dia... Tapi aku tinggalkan umah ngan hati yg agak tenang gak ekceli sbb ayah aku dah stat bercakap semula and nampak dia dah sihat sket... Tapi lam masa yg sama aku rasa berat nak balik Kuantan cari kerja kat sana je pulak... Sbb banyak2 kali mak aku ulang, "
Nanti kalo adik dah balik, cemanala Cik sorang2 nak jage Pok...
" Ishk bikin syahdu. Tapi aku nak keje ape kat Kuantan?? SAP ada? Ishk2 lagi.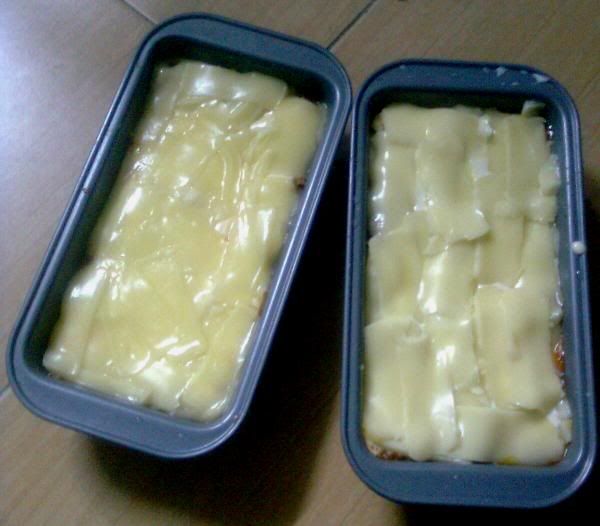 Dah panjang sangat... Boring lak korang. Anyway before aku balik ke KL aritu, sempat aku bakar dua jibik lasagne, satu utk aku n family, satu lagi lasagne campo love potion sket untuk Sayang nge nge. Generously topped with cheddar n mozzarella cheese nyum!! Smalam dia datang amek, n atiku dah cukup gumbira dah dapat jumpe dia lepas dah lama tak jumpe... Arini bliau msg cakap
"Lasagne sedapnyier!"
Huhu. Sayang sangat kat dia, n takleh imagine kalo dia tadek...
Ok, I'll see you guys later!