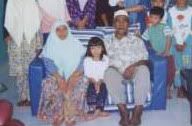 Baca entry member aku tadi, buat aku pk, ada orang yg dapat layanan lagi teruk dari mak ayah tapi tadek pun sehangin aku. Sian aku baca cite dia. Sabarla kawan eh... Buat aku tringat nak cite pasal ayah aku smalam...

Petang smalam ai rasa tersyahdu le plak ngan ayahku... Petang tu dia panggey aku datang kat dia. Dia ulur kepit kuku, mintak aku kepitkan kuku kaki dia. Adeih, rasa berdose gile memarah (even lam diam2) kat dia dulu while he's helpless camtuh! Tatau le pesal aku tersyahdu, mayb sbb aku tetibe zupp, it strikes me bile pk betapa ayah aku dah tua dan tak berdaya.
Ayah aku dok atas kusi, aku bersila kat tepi kusi, angkat kaki dia atas peha aku, potong hati-hati. Time tuh aku rasa ntah, syahdu semacam pasal rasa cam his way nak 'bermanja'. Kalo kite tak suke kat orang, kite tak suruh dia buat anything untuk kite kan? Sama gak, kalo ayah aku tak suke aku, dia tak suruh aku buat mende2 camtu kan? Time tu ayah aku dok cakap, tangan seblah kiri dia takbleh genggam sangat (sbb stroke dulu) sebab tu dia susah nak potong kuku kaki.
Ayah aku ni, kekadang dia terlampau takmo susahkan orang sampai kekadang kite tersilap paham. Selagi boleh dia buat sendiri, takmo suruh orang. Aku cakap "Lenkali suruh la adik ke, kak da potong... Suruh je... Adik mana tau kalo tak kene suruh..." Small things camtu, aku tak pasan most of the time. It's like slagi dia tak terbaring sakit, aku tadek la nak cari kaki dia untuk potong kuku ke... Sbb tu aku suruh dia suruh.
After all aku rasa, I'm my daddy's gal... Mak aku cakap aku ngan ayah aku sama2 degil. Baran (ngah usaha keras nih nak kurangkan!). Ayah aku baran since dia sakit nih, dulu tak. Aku baran ke? Wahahha kene tanye incik sayang tapi jawapannye gue nggak kepinging tau! Hahaha dah tau! Tapi aku rasa aku cepat marah bile aku rasa orang tuh pijak kepala aku. Kalo org tu baik je, buat pe gue nak baran kan?
Pasnih kalo dia marah, cuba wat muke seposen. Ija kate, kalo rasa2 nak marah tu, senyum... Eh aku rasa2 nak cite something pasal ija nih. Nenanti, di keluaran akan datang!