Back from Penang smalam! Yeyeah!!
Aku dok kat ostel yg ada tv, ekon ngan hot bath for $52. Tv penting untuk menghapus kebosanan. Ok la rate tu kan? Aku sampai Penang ari Rabu malam, dalam kol 9 pm lebey gitu. Siap2 check in tuh The Ex call. Dia kate dia nak datang kejap malam tu gak.
Chulia Street..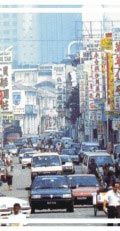 So dia datang malam tu sat naik moto, ngan kaki berbandage. Teman aku makan2, jejalan down Chulia Street sambil makan aiskelim. Tengok Chulia Street dah tak brape hepening cam dulu. Ada le seketul live band, eh live band ke. One man guitar show, bkn band, or so i read kot. Baru nak tengok, dah abis. Elehai. Kensel.
Pehtu dalam kebosanan carik la cc. Langsung tarak dah yg bukak! Ape kejadahkah! Dulu bukak 24 hrs, sikalang bapuk2 tunggu customer je yg ramai.
The day after, jejalan kat Prangin Mall plak. Incik Ex sabar je la teman aku ronda Prangin tuh ngehe. Hah! Masa on the way nak ke Prangin tuh, incik sayang aku call. Aku ckp The Ex ada, ngah jalan kat sebelah. Dia terkujat. Dia kate, "
Awak kate tak jumpa dia?
"
Aiseh. Aku kate, "
Eh, memule memangla. Tapi B kasik kan lepas tuh?
"
"
Memang la. Tapi awak kate cuma akan jumpe dia bile Ija ada..
"
"
Orang kate KALAU ija ada..
" Ishk. Rasa cam cakap keling plak arituh. Sure dia ingat aku tak serupa bikin... Aku plak ingat dia kasik greenlight... Adeih. Tertekan dadaku inih ketika itu. Mood nak bejalan pun dah kureng. Dia marah!
Pastu dah pusing2 prangin, tengok wayang pulek. Aku silentkan fon sepanjang cite antu Thailand - Six yg kitorang tengok. Sile la tengok. Ada satu part tuh aku rasa cam dah tobat takmo tengok cite antu dah... Takod! One time bile aku cek tepon nak tengok time, aku tengok ada 5 missed call. Dijamin incik sayang!
Aiseh, tak sompek aku cek call register, incik sayang call lagi. Terpaksa le aku rejek, cite antu dah le ngah climax time tuh. Dia call lagi dan lagi dan lagi. Aku lak struggle le menaip sms sambil merejek call dia. Entah ape la dia pk time tuh ishk. Aku kate ngah lam wayang blablabla. "
Erghh! Tengok wayang?? Ok... Have fun lah...
"
Aduh... Tersiksa jewa aku baca msg dia. Bile dah balik ostel n The Ex dah balik pong ke Seberang, baru aku ada peluang nak tepon Sayang. Rasa bodo sebenarnye buat camtu kat dia. Awat pendek ngat akai aku haa? Kalo dia nak kuar ngan Linda ex dia dijamin aku akan tak kasi. Dijamin aku mrajuk empatblas ari.
Tapi nih? Sebab bosan, nak dipamper slalu, takmo rasa sunyi, nak teman bercerita pepanjang, aku wat dia sakit ati... Sedih sangat denga tone suara dia time tuh. Cam sayu je... Tapi aku cakap bebaik kat dia, aku series tadek perasaan kat ex aku tuh. Zero. Aku cakap aku tak buat benda jahat.. Aku kate aku just nak teman. Aku cakap aku jaga diri aku bile ngan The Ex sebab dia... Sebab incik sayang... Ishk still rasa tak bes nih ekceli.
Dia ok la in the end of the day. The Ex, on the other hand, he wrote me three notes - satu dia letak bawah pintu lepas dia ketuk2 b4 blah, dua lagik dia kasi by hand. Sume sal dia still sayang, dia nyesal dan dia tau aku sayang boipren aku. Time jumpa tuh ekceli ngalir gak air mata dia bile dia cakap apemende yg dia dah buat silap duluk. Aku rimas sket bile lelaki menangis tak tentu pasal, rasa cam tak seswai le nak nangis2 skarang nih. Bukannye gepren dia lagi dah. Cam tebalik plak rasa...
Tapi yg bes lepas jumpe tuh aku mmg dpt rasa, aku mmg dah tak sayang dia cam dulu dah. Even dulu aku ingat, aku takkan sayang orang lain cam aku sayang dia dah. Anyway, dia mmg teman sepershoppingan yg besh. Heh. Balik dulu lah, lapau nih tata! :D