Mawi mawi mawi felix ai laik!!

Ahaha, demam gak! Skarang catch up AF, aku download sume dari 1-9. Ulang2 part Mawi nyanyi, ulang2 part Felix buat lawak muke-tadek-efek bliau sbanyak lapanblas kali! Bes! Tak saba tunggu Felix blakon lam Yasmin Ahmad nye mubi! Ai laik!!
Beday Gue!
Smalam ija ngan belle seprais me with a blue beday cake! Abis biru la gigi mulut makan kek itu, dasar pewarna la cet! Last skali aku tiup lilin rasanye time sweet form4 dulu je la... Time lain tadek lilin lilin dah. Betapa gumbiranya ati ku!
Smalam tuh ija kate dia ada grup meeting. Aku tido sat kol 8 tu. Ghopenye time tu dia pegi bli kek ngan neo ngan belle kat taman maju... Ija yg baru 2 minggu lepas dapat lesen yg drive! Hak hak! Dia kate dia bawak 80 km/h tapi aku yakin dia bawak 40 km/h je mengikut pengalaman! Hak hak lagi! Dah le bawak ngan hand brake tak lepas! Ahahaha, lawak le pompuan itu! Ija cakap, Neo soh tulis "
Selamat Pengantin Baru
" kat kek tu. Hehe. Sile terasa ye incik sayang! Hak hak hak hak(sile glak cam Marlia Musa!)
Incik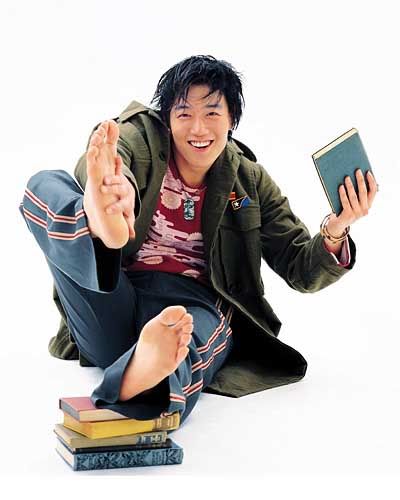 Sayam!
Harini udah epi! Borak dari ati ke ati ngan incik sayang... I think I fall in love with him again!

Things had actually been rough these few days... I felt like my limit was tested so I didn't pick up the phone for 2 consecutive days... Bukan aku tak kesian when he called like hundred times. Tapi aku just rasa sedey sangat, rasa tak boleh cakap ngan dia... Lam hati rindu cam gaban tapi bile aku tak angkat beberapa kali tu, aku jadik takut nak angkat, kot le kene marah ke. Then sure kene explain. And Im bad at explanation... Aku takut dia kate aku mrajuk tak bertempat.
Last2 bile aku rasa chenta ngan rindu aku exceeding rasa takut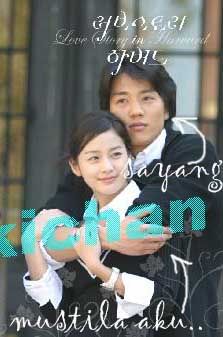 aku, aku picked up gak tepon tuh. We went speechless at first, tapi tadi rasa normal smula dah. Lege. Tak pening lagi! Hah! One more thing, I so thought that Kim Rae Won lam 'Love Story In Harvard' looked soooooo much like incik sayang! Haha prasan ke angau aku nih? Tapi ija kate mmg ada iras le. Ehe aku angau kot! Tapi siyes, mmg cara Kim wat muke mrajuk ke, ngan time gelak sejibik cam sayangku! Mule la, bile Kim lam cite Harvard tuh mengayat awek dia, aku plak yg terasa eksaited! Wahahhaha! Tapi Kim nih kuruih nye version la sebab incik sayangku tough! :D
Jepung!The second thing, aku eksaited nak cite, pasal incik Jepung! Penting nih! :D Aritu aku ada buat post pasal dia, tapi aku delete sebab rasa gerem. Dia nih aku kenal kat irc sejak thn 2001 lagi. Skang dia masuk utp, aku kenal dia dedepan tapi dia tak kenal aku. Hehe. Sussah sussah ajja! Tadi, out of nowhere aku terbukak ati nak msg dia kat irc. Since last sem, yg aku cite aku 'gado' ngan dia aritu, kitorang tak bertegur sapa langsung dah. So tadi, aku rasa tringin ngat nak tego dia..


Dalam aku dok pk2, nak msg ke tak. Nak msg ke tak, membe dia msg aku wish epi beday. Aku pun trus le tanye, "Weh, Jep marah aku lagi ke?" Dia kate, "Mana de. Dia ok je. Dia gak yg bagitau arini(smalam) beday predey(girlfriday)". Wah! Dia ingat ke? Alang2 terharu tu aku trus msg dia.

Memule kasi salam. Dia cepat je jawab salam. Tapi pastu dia amek masa sket nak reply. Aku dah trr trr dah. Aku pk, my words were too harsh on him dulu. Dia nak ke bermaafan ngan aku?

Pastu, tak lama pon, dah borak bes2 cam dulu smula. Lege di atiku! Dia kate dia baran, tapi cepat sejuk... Aku kate le kunun2 aku msg Jep pasal The Ex kem salam (sebenanye nak ajak layan borak! :D). Kem salam basi la tapi, sebab since minggu lepas lepas tu ehe. Aku yg cite sal Jep Jepung balik Mesia dan masuk utp kat The Ex. Aku sorry2 lagi ngan Jep, kot le dia marah aku kasi tau sal dia balik Mesia. Tapi Jep kate, "Takpe, aku paham ke eksaited an ko!" Ahha ai laik! Dia paham pasal we are in the same shoes. Sesama buang beras blaja jejauh, pastu sesama balik Mesia masuk utp. Sesama jadik warga emas di utp. Ngehe.
Jep kate, The Ex ada msg dia kat prenster, soh Jep kem salam sayang kat aku. Gatei! Ampun incik sayang, tak tahan nak cite! Kao tatap bertakhta di hati keww! Dah takod sebenanye nak cite sal The Ex, aritu incik sayang kate, "Dia tu tak givap lagi ye... Nak kena patah kaki agaknye..." Kate incik sayang lembut tapi tegas. Killing me softly with his words! Uh takod!!

Sambung cite sal Jep. Aku ngan banggenye kate kat Jep, aku nampak dia kat pasar malam. Cam stalker plak ngeh ngeh. Dia tak kenal aku, aku kenal dia. Hora la!

Pastu Jep cakap, membe dia Payid slalu cakap, "
Haa Jep! Tu gelpredey!
"
bile nampak orang macam muke lam gamba aku bile dorang jenjalan sesame. Aku ada share fotopages ngan
Payid
nih. Bile cakap kat cenel, Payid trus le nyampuk -
Haa! Kan aku dah cakap! Aku nampak predei kat pasar malam tadi!
" Tatau le btol ke indak. Wahaha gile!
Kesimpulannye aku hepi dah la. Pasnih Jep kate dia akan mule mengzoom carik yg mana satu aku, sebab aku ada satu kelas sama ngan dia. Trr trr! Aku rasa b4 dia cam, baik aku tego dia dulu. Ehe branikah aku!

Oklah, sok ada briefing pasal practical aku next sem. Dada~~