Baru abis tengok all 18 episodes of The Apprentice season 2 including the lookbacks... It was awesome... Since ari Jumaat aku devoted masa aku tengok cite tu marathon 3, 4 episodes skali tengok... Huahaha giler addictive, cam melekat je montot kat katil all days and nites... Fuh, lege dah abis tengok.... Nak tengok tv lambat sangat abis...
Trump
: So, who would u fire Sya?
Aku
: I would definitely fire everyone Mr. Trump, except Melania. I think she's one heck of a hottie you should hire for your company!
Sure she was! Nampak humble though she may get whatever she name it as Trump's fiancee(now wife). The one face yang aku tertunggu-tunggu nak tengok in each episode... Ngahaha... Anyway ada sneak preview utk season 3, aku tengok kaum adam tu sume cam tak menarik je... Uh uh!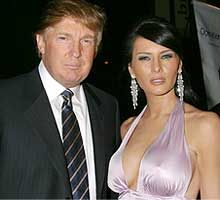 Oh. Satu lagi cite aku dok tengok - Desperate Housewives. Cite ni lain dari yg lain sket. Yang lawaknya, orang yg supposedly dah mati lam cite tu yang jadik narrator cite ni... Huhu. Revolves around parenthood, conspiracy, murder, jealousy, sex... Sume ada. Cut it short, 'The residence of the hottest housewives ever in television history'! Sume housewives ni muke familiar tapi yg aku kenal just Teri Hatcher yg jadik Lois Lane lam Superman tu...

girlfriday says @ 08:58 pm