Ehe. Cam tajuk blok acat je. Arini aku demam. Huwaaaa. Rasa2 demam protes sal bodyclock dah lari gegile secara drastik neh. Bese tido kol pat lima nam pagi. Paling awal tido kol tiga. Bangun kol patblas tengahari. Hehe. Skang kol 6 pagi dah kene bangun. Kol 10 malam dah pengsan. What a day!
Smalam time sayang anta ke klcc direct, aku baru figure out bahwasanye lalu kat 'jalan' lg dekat. Slama neh gigih aku menapak ke lrt cahaya, pastu tuka station kat masjid jamek. Baru la sampai klcc. Dr umah ke lrt tuh 10 minit. Tu pun kalo jalan sepantas kilat. Kalo slo jgn harep la! So pagi tadi aku trai gi tunggu bas RapidKL sebab aku terbangun kol 7 pagi. Mmg pantas aa. Kurang 15 mins dah sampai... Nk jalan ke bastend pon dekat je compare ngan ke lrt. Fuh lege pasnih...
Tapi kelmarinla yg wat aku bebetul fedap naik lrt. Tu yg aku carik alternatif lain tu. Boleh tak, dr klcc aku p masjid jamek. Pastu aku naik lrt ke ampang. Konon2 la. Rupenye tesilap... Aku naik lrt Sri Petaling rupenye. Sebbaik aku seda tu time kat Cheras. So aku turun Cheras. Lintas ke station seblah sana. Gi Chan Sow Lin. Kate Chan Sow Lin stesen pertukaran kan. So dh smpi sana aku naik la lrt ke Ampang. Silap lagi!! Aku sampai Cheras lagi. Tapi kali ni aku segan le nk turun stesyen Cheras lagi. So aku turun kat Salak Selatan. Pusing Chan Sow Lin balik. Baru la dapat naik lrt Ampang. Adoila sengalnye diri ini! Siries aku tapaham. Memule aku tatau lak ada dua jenis lrt lalu kat track yg sama dr Masjid Jamek tuh. Ishk. Kepada sesape yg tapaham citer keling aku neh, sile la tgk gambarajah(eceh!) kt bawah nih.. :P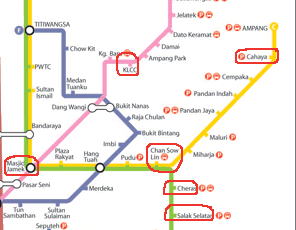 Ape lagi eh. Oo... Aritu osmet filipino tu tegur aku siot... Aku baru memasang niat nak wat kerek ngan dia. Huhu tak jadik nampaknye. Pagi tadi pon kitorang beborak ngan ranchak. Hakhak. I guess after all, muke dia mmg jenis garang kot. Ontah!
Skarang dah kurang nangis sket. Sebab kelmarin sayang datang pujuk secara bes. Lege di hatiku. Yelah, aku takbleh expect dia cam ija. Papehal, sempit pon sempitla bilik aku tuh sampai ujung bulan neh... Nanti aku bli rak sket, kasik ada ruang kat bilik aku tuh nak berjalan. Nk kate living out of suitcase pun bleh nih, sbb baju aku sume lam beg, except few baju kurungs yg aku gantung kat tingkap.
Tvcard aku wat hal smalam. Tetibe sume cenel ada titik titik banyak banyak. Aerial pon dah nyaris nk patah. Adoi... Di kala time miskin ni la memacam perlukan perhatian... Ishk ishk. Hah! Just when I thought aku la maknusia paling malang, tetibe masa aku gi Cold Storage kelmarin aku jumpe Heda, Emy ngan Dang, membe rapat gak ah kat utp. Hepi giler ah dapat tengok some real familiar faces... Dorang kate dorang resign dr training dorang. Nape? Dorang kene wat keje tah pape, termasuk babysitting ngan kemas bilik otel tpt dorang keje tuh, instead of doing IT stuff... ishk2 sian dorang. At least aku, masalah domestic je, tpt keje ok... Alahai, memasing ada bahagian sendiri la...
Ape agi aa nak cite. Aku tumpang pc opismate lagi nih. PC ada kat cube aku tapi lom ada username n password. Ape kejadahkah. Masakan aku leh xs tenet ngan keadaan sebegitu... Smalam aku try turun lrt Ampang. Naik kete rasa cam dekat. Ghopenye jauh. Keh keh. Letih la aku menapak balik umah. Carik jalan shortcut punye psal, aku jumpe jalan mati blakang pasa. Adoila... Sebaik ada teksi lalu. Dua ringgit je kene... Time turun org teksi tuh mintak number. Dalam hati aku pk, Aik, since when Chinese man interested kat Malay girl? Trasa cam Orked lam Sepet lak! Haha!
Pastu time dia kenalkan diri dia, dia kate nama dia Ali. Lapanblas kali aku tanye smula, nama siapa? Dia cakap Ali, darab lapanblas gak. Hehe. Pastu tetibe dia tunjuk satu kad nih, something about him converting lah. Aku pun cam, uik, siap bawak kad tuh. Aku kate, "Ala, pesal tak letak nama yg fancy2 sket." Huhu. Dia kate bapak angkat dia yg letak nama tuh. Nama betul dia Lee something. Ooh! So sure asal dr 'Ah Lee' terus jadik Ali rite! Ngaha!
So tak lama pas aku sampai bilik tu, dia call. Tapi tu le, silap aku le kasik number kt dia without telling him, aku malas layan tepon2 nih. Tapi aku tak reti nak ckp takbleh kasik. Lahai. So kesimpulannye, takyah angkat sebanyak pat kali. Huhu. Takmo wat incik sayang rasa tak besh! Oh, petang nih dia amek nak pegi pasar malam! Yay yay!
Ok lah, dorang ngah semayang jomaat nih. TIme rehat dah nak abis. Kalo kat utp... Jep suke ajak gi smayang jumaat. "Dapat pahala sunat!", dia slalu ckp. Huhu. Huwaaaa miss my buddies! Gotta go, late yach! Daaaaaaaa!